Central hostel at Rådhusgatan 16 in Öregrund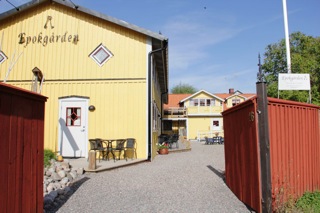 Stay by the sea in Öregrund, a traditional, historic seaside resort. The hostel is located in the centre of town with all amenities within a 200 m radius. Guest harbour, health centre, pharmacy, shops, liquor store, restaurants and pizzerias.
Epokgården is a self catering hostel. There is a large, fully-equipped kitchen, a dining table seating up to 10 people and a garden with its own furniture, allowing you to enjoy breakfast and other meals indoors or outdoors. Smoking is not permitted inside the hostel.
Guests are particularly impressed by our comfortable beds, most of which have sprung mattresses.
Toilet for disabled (RWC). No doorsteps. Easily accessible shower and kitchen. Ramp at entrance.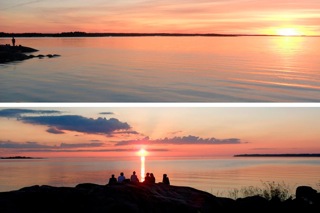 We also have three apartments with 4 bedrooms/kitchen and two apartments with 2 bedrooms/kitchen. In the garden are 2 smaller cottages of 10 and 15 square metres.
There are buses to Öregrund from Uppsala (UL 811) as well as from Gävle (UL 832) and Norrtälje (from Rimbo). Time tables can be found at www.ul.se
Details
Total number of beds
40, including 2+3 in separate cottages, 10+7 in apartments
Number of rooms
Five 2-bed rooms and
One 4-bed room
Number of apartments
3
Number of cottages
2
Pets
Dogs/cats are welcome in both cottages and apartments
Shower/toilet
3, including one toilet for disabled (RWC). All apart-
ments have shower/toilet.
Swimming
300 m
Golf
5 km
Fishing
300 m
Bus stop
50 m
Address
Epokgården
Rådhusgatan 16
SE-742 42 Öregrund
Sweden
Tel: +46 173 302 00
E-mail: info@epokgarden.se
Pris från:
390 kr enkelrum
650 kr dubbelrum